– [Faith] Make yourself a cup of coffee, give your kid a toy and
let's do some meal prep. This week, I prepped a
bunch of summery foods like salads, homemade popsicles,
herby salad dressings, and creamy, refreshing key
lime pie overnight oats. Whenever I meal prep, I like
to first come up with a plan of what I'm gonna make and
make sure those ingredients mix and match well, just
so that we don't get bored with our meals throughout the week and things stay fresh and exciting. So, I'm gonna show you
everything I made this week, everything is summery and fresh, and mixes and matches beautifully. I have a free PDF down below
with all the recipes included as well as a shopping list and ideas for how to mix
and match these ingredients to create healthy summer meals. Let's jump in. I started by making my
favorite homemade granola that contains tahini. So, you're gonna mix
together some coconut oil, tahini and maple syrup until smooth, in addition to some salt and cinnamon, before adding in your rolled
oats, chopped nuts and seeds, and mixing until well combined.
Then you're just gonna pour
this sticky oat mixture onto your baking sheet. And I use a spatula to spread
it out into a thin even layer before popping it in the oven. Whenever I meal prep, I always like to start with getting whatever I need to use
the oven for into the oven so I can work on other
things while it is baking. So, today, while my granola was roasting, I started in with some key
lime pie overnight oats. In a large bowl, I stirred
together some rolled oats, chia seeds and lime zest before adding in some non-dairy yogurt, non-dairy
milk and some lime juice. Then I just stirred this really well until smooth and creamy. I added in a touch of maple
syrup towards the end, just for some extra sweetness because my yogurt and
milk was not sweetened. And then I put a lid on top of this and put it in the fridge to soak. (gentle music) Next up, I started on my
favorite summery hearty salad by making some quinoa.
So, I'm just putting one part
quinoa to two parts water into a pot, bringing that all to a boil. And while that's simmering,
I whipped up the dressing. So, I combined some
olive oil, lemon juice, lemon zest, garlic into a Mason jar, and then added in some spices
like cumin, salt, pepper, and a touch of maple syrup. I whisked this until nice and smooth and then prepared the
other parts of the salad while I waited for the quinoa to cook. So, I chopped up some cherry tomatoes as well as a handful of cilantro. And by this point, my quinoa
had soaked up all the liquid.
I just put the lid on the
top and allow it to sit for about five minutes before
fluffing it with the fork. Next up, I started to prep the ingredients for some baked tofu nuggets, and these are my newest obsession. They are so flavorful and
so fun to have on hand. And all I'm doing here
is pressing some tofu and that will take about
15 minutes to press. So, I started working on
an herby salad dressing by putting some fresh cilantro and parsley in with some water, blending that until smooth
and then added in some tahini, lemon juice, garlic, a
touch of maple syrup, salt and pepper, and blended
it again until nice and smooth. If you have a small handheld
blender that would work great. But this also worked and you are left with a flavorful creamy,
vibrant salad dressing. By this point, my tofu had been pressed so I started with these almond
flour baked tofu nuggets.
I started by making a dredging
sauce with some vegan mayo, which I showed how to
make in my last video, and mix that with some other ingredients. And then I made a breadcrumb mixture, but I used almond flour,
nutritional yeast and spices. Now, I'm just gonna take
my tofu out of the press, cut it into nugget shapes. You could really make
these whatever you want. You could make them into tenders. But I'm basically just gonna dip them in the dredging sauce and
then the breadcrumb mixture until you get these little
nuggets that are so flavorful and so fun to have on hand.
And I just continued this process until all of my tofu had been coated. It might feel like you don't
have enough dredging sauce, but there should be just enough
if you don't overcoat them. And this is super fun
to do with your kids. The last time I made this,
my daughter helped me out and she had a lot of fun. So, get your kids in the kitchen with you, if you have kids, or just crank through it really quickly, and you will have these awesome
protein-packed tofu nuggets on hand whenever you need them. (bright music) Next up, we're prepping
the dessert for the week. And this is a healthy,
kid-friendly dessert that doesn't last long in our house. So, we are just making some fudge pops with full fat coconut milk, frozen bananas, you can also use fresh, and some cocoa powder. My daughter loved helping me pour the ingredients into this bowl. Again, use a blender if you
have it. I don't have one. So, I just blended these
ingredients until smooth before pouring them into popsicle molds.
Again, this is a super fun recipe for your kids to help with. They can put the sticks in themselves. And then you're just gonna
freeze these until solid. Usually overnight is best. If I have time, I also like to make healthy little energy bites
that are brownie flavored to include in these so you
get these chunks of brownie in each popsicle. But this week, we just kept it simple and froze these until solid. (bright music) Next up, I whipped up two recipes that I've shown how to
make in previous videos. So, I made some homemade chocolate sauce by mixing together some
coconut sugar, cocoa powder, and then I started slowly
adding in some hot water and stirring occasionally until I got a smooth, liquidy paste. I love having this on hand
in the winter, in the summer, but especially summer
'cause I can use it to make chocolate milk for my kids or I add it to my iced
coffees to make mochas.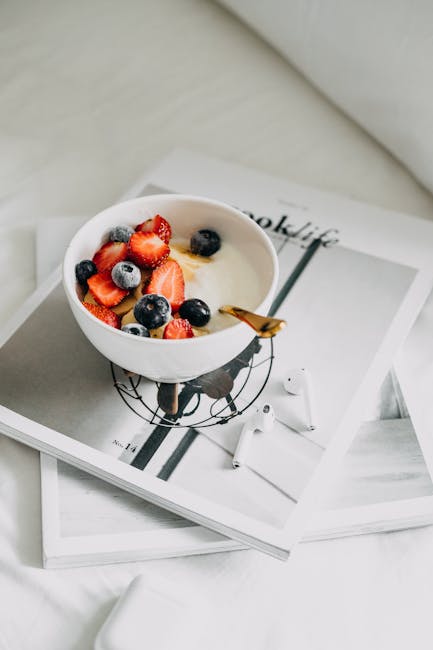 And it's just a fun syrup to have on hand in these hot months. (bright music) And then again, I made
another jar of pickled onions. I love having these on hand. They add so much flavor
to salads, sandwiches. So, I'm just gonna chop
up two large red onions. I love to make two onions at a time because they last forever in the fridge. And then you just put this in a jar and pour over a hot water,
vinegar, sugar, and salt mixture. And you just wanna press the onions down into the hot mixture. Allow it to sit at room
temperature for about 30 minutes before putting a lid or
aluminum foil on the top and storing it in the
fridge for up to two weeks.
I feel like it's lasted me three weeks. So, these are an awesome
thing to meal prep. Lastly, if I have extra time, I love to chop up some fresh produce. We are loving cantaloupe right now. So, I used some extra time I had to cut up a cantaloupe into pieces. I find we just eat more
produce if it's already cut up, especially my kids and my husband. So, if you have some extra time, you could cut up some
melon or wash your berries or chop up some fresh veggies and just store those in your fridge. At this point, everything
should pretty much be ready.
So, I'm going to assemble
that quinoa salad by adding the quinoa,
chickpeas, fresh cilantro, those chopped up tomatoes and
the dressing to a large bowl. Or you could do this
straight in the Tupperware that you're gonna store it in and just stir everything
super well to combine. And then you're gonna let
this sit in the fridge if you have time for about 15 minutes. Of course, if we're meal prepping, it should sit in there for a few days and just gets better the longer it sits. This salad also calls for fresh avocado, but I add that just before eating.
And now your tofu nuggets should be ready and out of the oven, just store these in a Tupperware container in the fridge for whenever you need them. And your granola should be ready. Once you remove it from the oven, allow it to sit so everything
can solidify together before breaking it into clusters and storing it in a container. All right, your epic summer
meal prep is complete with some fresh melon, baked tofu nuggets, quinoa salad, herby lemon tahini dressing, some chocolate syrup, homemade granola, key lime pie overnight
oats, creamy fudge-sicles, and some pickled onions. Now, I'll just show you how
we like to enjoy these items.
My daughter loves to mix
the granola with Cheerios and loves melon. For the key lime pie overnight oats, you can pair this with the tahini granola, which tastes like Graham crackers, or you can use real Graham cracker crumbs for a special treat. I also like to just add the granola to yogurt and berry bowls. This is such a good light, refreshing summer breakfast or snack. As for the tofu nuggets,
we put them on everything. They made salads taste amazing, especially with the pickled onions and that herby lemon tahini dressing. This is such a delicious meal. I want it right now as I'm
filming this voiceover. I also loved to mix the
herby dressing into greens before I plated it. My daughter loved it this way. Serve it up with the hearty
quinoa salad, add that avocado. It's a game changer. And pair it with the tofu nuggets. Again, you could add another
kind of dipping sauce, and this is a delicious hearty meal. I also loved to pair everything together because it mixed and matched
well to make these epic salads with the quinoa salad on top of greens with the tofu nuggets
and the pickled onions.
Oh, I could eat that meal
every day. (chuckles) The popsicles are pretty self-explanatory. They really don't last long in our house, especially with six kids. My son loves them. My nieces love them. They are just so fun to have on hand on these hot summer months. And again, I love to
use that chocolate syrup to make homemade chocolate milk or mochas. It's just a fun, special summer treat that, of course, everyone
in the family will love. And then I wanted to have a last mention, a summer drink that I've been
loving, our Arnold Palmers. I cannot say that. And you just mix some
ice tea with lemonade for a refreshing fun drink. I really hope you guys enjoyed
this summer meal prep video. Again, I have a free PDF down below with all the recipes included
as well as a shopping list and ideas for how to mix
and match these ingredients to create healthy summer meals. So, I hope you guys check that out.
If you enjoyed this meal prep video and want me to make more, please give this video a thumbs up. Be sure to subscribe so you
don't miss the next video. Would love to see you here more often and I will see you guys very soon. Bye. (gentle music).